360° Your City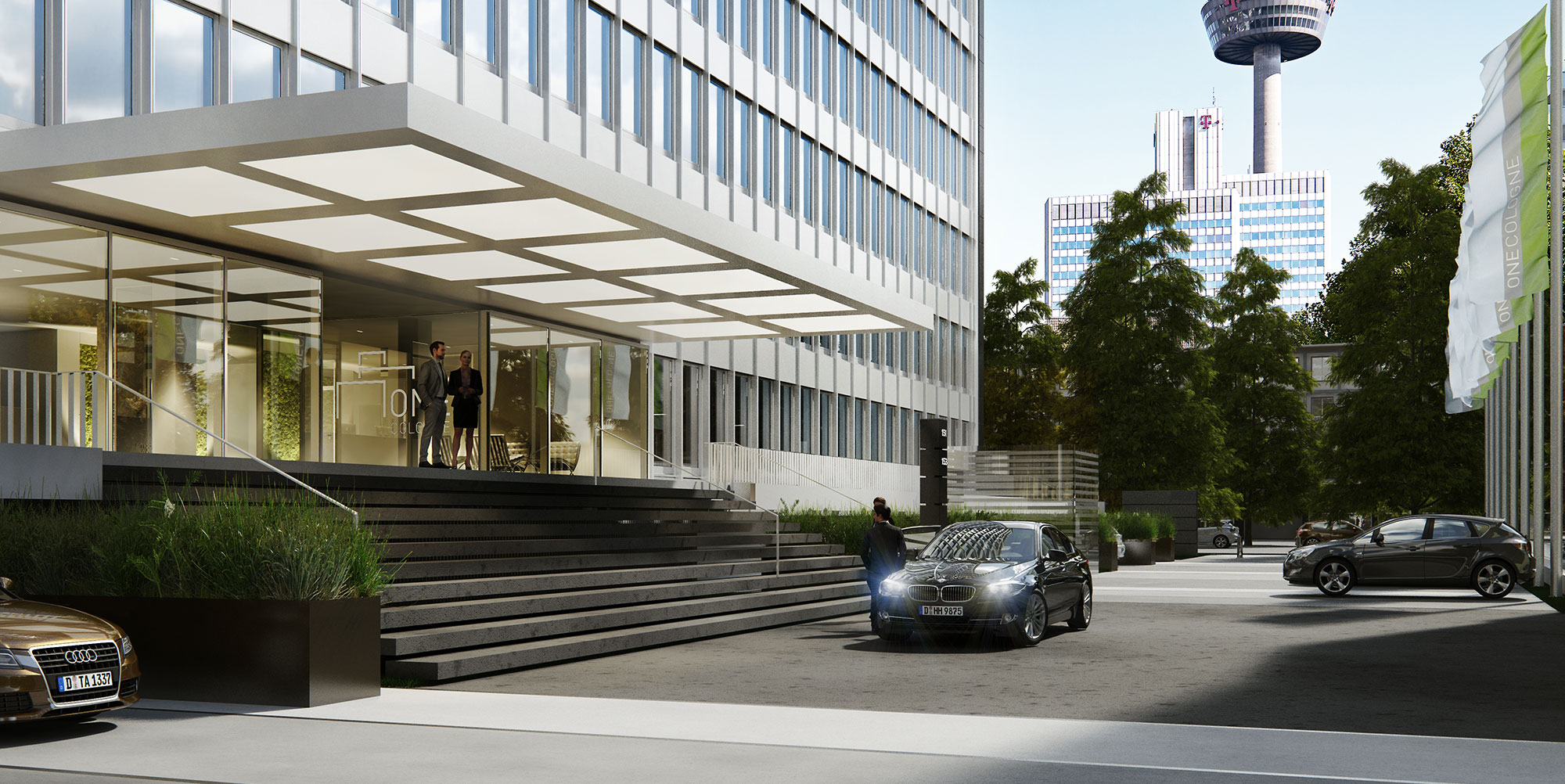 Einzigartige Architektur.
In der Innenstadt von Köln.
Ein Stück Geschichte: Im Jahr 1977 taten sich einer der bekanntesten Architekten seiner Zeit, das Atelier Peter Neufert, und einer der größten Versicherer, die Hamburg-Mannheimer, für ein gleich in zweierlei Hinsicht außergewöhnliches Projekt zusammen. An der Kreuzung zweier Magistralen, der Venloer Straße und der Inneren Kanalstraße, entstand mit hervorragender Sichtbarkeit die neue Zentrale des Versicherers - ein Bau mit einiger Bedeutung für Köln als Versicherungsstandort. Darum machte die Stadt zwei bemerkenswerte Ausnahmen: Sie gestattete trotz Einschränkung der Sichtbarkeit auf den Kölner Dom eines der ganz wenigen Hochhäuser und seine Errichtung innerhalb der besonders wertvollen, weil innerstädtischen, Parkanlage "Grüngürtel". In bester Lage entstand so das elegante Drei-Scheiben-Hochhaus, das nicht nur exponiert und weithin sichtbar ist, sondern auch selbst beste Ausblicke auf die Innenstadt der Rhein-Metropole bietet.
Ein Stück Zukunft: Mit dem umfassenden Refurbishment wird die zeitlose Gebäudestruktur in ein exklusives Büroobjekt mit flexiblen Grundrissen überführt. Eine moderne Fassade mit maximal-hohen Glasbändern, eine repräsentative Vorfahrt, eine stilvoll designte Lobby und schnelle, digital gesteuerte Aufzug-Gruppen machen seine Ausstattung so komfortabel, die Bauweise so nachhaltig, dass der Besucher es von einem Neubau nicht mehr unterscheiden kann. Damit wurde das Architekturbüro HPP Hentrich-Petschnigg & Partner beauftragt, das seinerzeit mit dem Düsseldorfer Thyssen-Hochhaus den Typus des Drei-Scheiben-Hochhauses begründete. Das Ergebnis ist eine ebenso nachhaltige wie elegante Landmarke in zeitlos-coolem Look, mit intelligenter und effizienter Organisation bei größtmöglicher Flexibilität.

Willkommen im ONE COLOGNE.
Unique architecture.
In downtown Cologne.
A bit of history: In the year 1977, one of the most established architects of his time, the studio of Peter Neufert and one of the biggest insurance providers, Hamburg-Mannheimer, got together for a project that was extraordinary in more than one way. At the crossroads of two major routes, Venloer Strasse and Innere Kanalstrasse, the new headquarters of the insurance provider was built with great visibility - a construction with a clear meaning of Cologne as the insurance location. For this reason, the city made two striking exceptions: It allowed the construction of one of the very few high-rise buildings within the park "Grüngürtel", particularly valuable, because of its inner-city location, despite a limitation of visibility of the Cologne Cathedral. In a very best location, the elegant "Drei-Scheiben" high rise building was built, which is not only exposed and very visible, but also allows best views of the city center of the Rhine metropolis.
A bit of future: With the comprehensive refurbishment, the timeless building structure will go through the transformation into an exclusive office building with flexible layouts. A modern facade with maximum high glass bands, a representative driveway, a stylish lobby and fast, digitally controlled elevator groups make the equipment so comfortable and the construction so sustainable that a visitor can't tell the difference from a new construction. For this, the order was placed with the architectural office HPP Hentrich-Petschnigg & Partner, which established the type of building of the "Drei-Scheiben" high-rise building by building the Düsseldorfer Thyssen high-rise. The result is a sustainable as much as elegant landmark in a timeless look, with intelligent and efficient organization as well as highest possible flexibility.

Welcome to the ONE COLOGNE.
Mittendrin.
In der Stadt und im Business-Leben.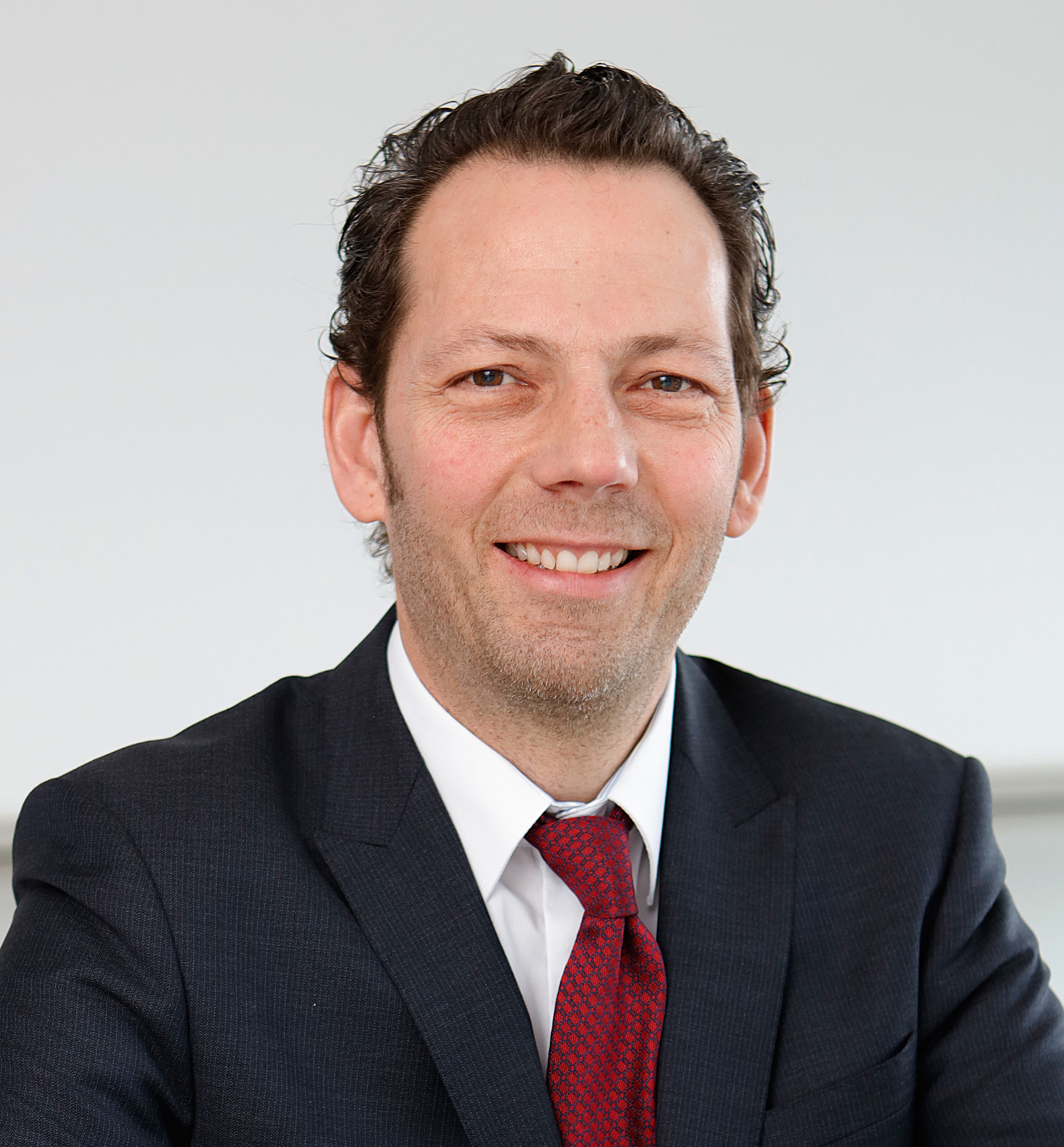 "Das
ONE
COLOGNE ist als stadtbekannte Landmarke weithin sichtbar und aufgrund seiner Ecklage an übergeordneten Erschließungsachsen der Innenstadt optimal erreichbar. Und mit der repräsentativen Vorfahrt und dem weit auskragenden Vordach übernehmen wir ein Stück weit die Idee eines Luxushotels für unser Büro-Hochhaus."
Henning Dumrese, DEVELOPMENT PARTNER AG
Schnittstelle von zwei Lebensadern: Am Standort des ONE COLOGNE treffen sich zwei wichtige Verkehrswege von Köln, die Innere Kanalstraße und die Venloer Straße (B 59). Erstere ist als Ringstraße der Metropole für die Erschließung der gesamten linksrheinischen Innenstadt essenziell, während die Venloer Straße als Radiale und Fortsetzung der Magnusstraße den Central Business District (CBD), das prosperierende Belgische Viertel der westlichen Büro-City, mit dem sich immer schneller wandelnden Ehrenfeld verbindet.

Dank dieser Lage sind die Mitarbeiter und Besucher des ONE COLOGNE perfekt angebunden. Nur wenige Minuten sind es zur Autobahn A57, damit ist die Anbindung nach Norden und Düsseldorf ausgesprochen gut. Desweiteren rücken die A1 und die Autobahnen A4 und A3 etwa den Flughafen Köln-Bonn in angenehme Reichweite. Daneben ist auch der hier sehr gut ausgebaute Kölner ÖPNV – mit dem Bahnhof West mit Anschluss an den Schienenverkehr der DB sowie der U-Bahnstation Piusstraße – bequem fußläufig erreichbar.

Mit dem Auto:
< 500 m zum DB-Bahnhof West
< 5 km zur Kölner Messe
< 2 km zum Kölner Dom / Hbf
< 20 km zum Flughafen Köln / Bonn

Mit Bus und Bahn in fußläufiger Entfernung:
- Haltestellen: Hans-Böckler-Platz Bf West, Piusstraße
- U3, U4
- Buslinie 142
- RB 48, RE, MRB 26, S 13/19
- Straßenbahnlinien 3, 4, 5, 12, 15
Right in the center.
In the city and in business life.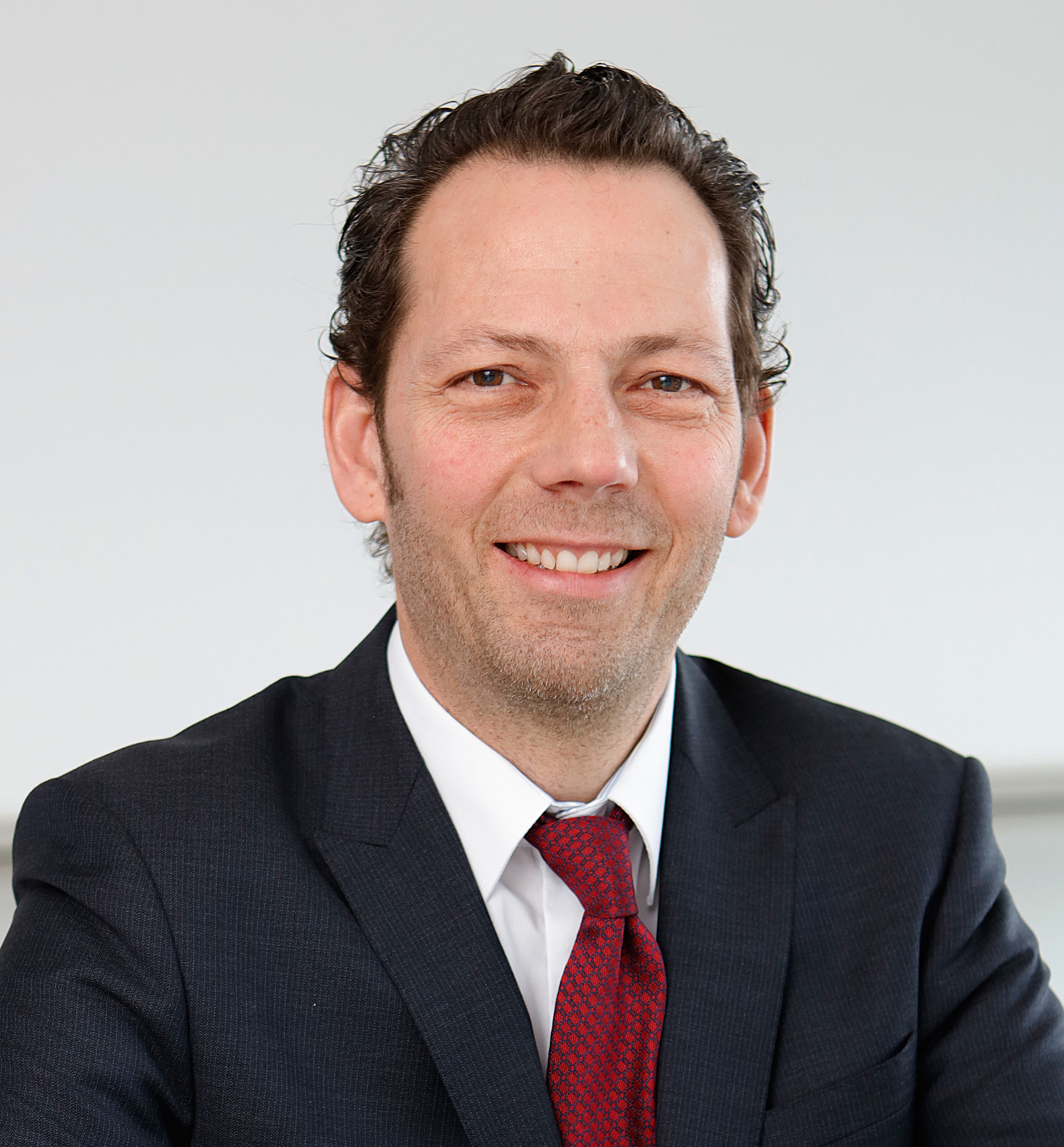 "The
ONE
COLOGNE is visible as a landmark known all over the city and is easily accessible due to its location on a corner of superior developing axes of the city center. With the representative driveway and to a degree, with the wide awning, we are adopting the idea of a luxury hotel for our office high-rise."
Henning Dumrese, DEVELOPMENT PARTNER AG
Interface of two lifelines: At the location of the ONE COLOGNE two important traffic routes of Cologne meet, the Innere Kanalstrasse and the Venloer Strasse (B 59). The first one is essential as the outer ring of the metropolis of the entire left-Rhine city center, while Venloer Strasse as a connector and continuation of Magnusstrasse connects the Central Business District (CBD), the prospering Belgian Quarter of the western Office City with the quickly growing Ehrenfeld.

Due to this location, the employees and visitors of the ONE COLOGNE are perfectly connected. Only a few minutes to the freeway A57- the connection to the North and Düsseldorf is very good. In addition, the A1 as well as the freeways A4 and A3 make the airport Cologne-Bonn comfortably accessible. Besides, the presently very well expanded Cologne public transportation (ÖPNV) can be comfortably reached within walking distance – with "Bahnhof West" and connection to the railways of DB as well as the subway station Piusstrasse.

By car:
< 500 m to the DB station "Bahnhof West"
< 5 km to Köln Messe
< 2 km to the Cologne Cathedral / Hbf
< 20 km to the airport Cologne / Bonn

By bus and railway accessible in walking distance:
- Stops: Hans-Böckler-Platz Bf West, Piusstraße
- U3, U4
- Bus line 142
- RB 48, RE, MRB 26, S 13/19
- Tram lines 3, 4, 5, 12, 15
Urbanes Leben.
Fast wie am Central Park.
Städtische Vielfalt: Als eines von nur wenigen Hochhäusern Kölns steht das ONE COLOGNE im Kontext großer Büroagglomerationen und städtebaulicher Hochpunkte wie dem gegenüberliegenden Telekom-Ensemble, dem "Foster- Building" am angrenzenden Friesenplatz, der Kölner Bank oder dem Köln-Turm im nahegelegenen Media Park.

Gleichzeitig verbindet es die außergewöhnliche Sichtbarkeit an zwei Haupterschließungsachsen mit überraschend viel Grün. Sowohl die Venloer Straße als auch die Innere Kanalstraße sind als großzügige Alleen von dichtem Baumbestand gesäumt – und die Parklandschaft des Grüngürtels schließt unmittelbar ans Gebäude an. Fast wie am Central Park.

Die Nutzer des Gebäudes haben die freie Wahl: Das Belgische Viertel ist für seine äußerst erfolgreichen Unternehmen aus der IT- und Medien-Branche sowie sein innerstädtisches Flair in aller Vielfalt bekannt, mit unzähligen gastronomischen Angeboten in Cafés und Restaurants.

Auf der anderen Seite führt die Venloer Straße durch Ehrenfeld – einen der angesagtesten Stadtteile in Köln, der sich mit bemerkenswerter Geschwindigkeit vom Szeneviertel zum Medien- und Kreativstandort entwickelt. Entlang der Venloer Straße finden sich Shoppingmöglichkeiten für den täglichen Bedarf, alle denkbaren Dienstleistungsangebote sowie abwechslungsreiche Lokale.
Urban life.
Almost like Central Park.
Urban diversity: As one of few high-rises, the ONE COLOGNE is located in the context of large office agglomerations and urban construction highlights, such as the Telekom ensemble vis-a-vis, the "Foster-Building" on the adjacent Friesenplatz, the Kölner Bank or the Cologne Tower in the near-by Media Park.

At the same time, it connects the extraordinary visibility at two main traffic axes with surprising amounts of green space. Venloer Strasse as well as Innere Kanalstrasse as large boulevards are lined with trees - and the park scenery of the Grüngürtel follows the building directly. Almost like Central Park.
The users of the building have the choice: the Belgian Quarter is known for its very successful companies in the IT and media sector, as well as its city center flair with high diversity, numerous gastronomic offers in cafes and restaurants.

On the other hand, Venloer Strasse goes through Ehrenfeld – one of the hippest districts in Cologne that is quickly developing from a trendy neighborhood to a media and creativity location. Along Venloer Strasse, there are shops for all daily needs, any necessary service providers and a variety of pubs.
Bewährte Adresse.
Für bestes Business.
Das ONE COLOGNE bietet als Bürogebäude rd. 15.000 m2 Fläche für konstruktive, produktive Arbeit und innerhalb des Büromarkt-Standortes "City" beste Bedingungen für gute Geschäfte. Damit ist es in seiner Nachbarschaft in guter Gesellschaft. Auch finden sich in direkter Nähe Hotels aller Kategorien für Geschäftsbesucher sowie ein abwechslungsreiches Angebot für den Mittagstisch oder das Business-Dinner.
Für ein familienfreundliches Arbeitsumfeld gibt es auch Kindertagesstätten sowie Schulen in komfortabler Entfernung. Außerdem steht mit dem Grüngürtel auch die größte zusammenhängende Parklandschaft der Innenstadt für eine erholsame und wahlweise auch sportliche Mittagspause zur Verfügung.


Established Address.
For best business.
As an office building, the ONE COLOGNE and its 15,000 m2 offer space for constructive, productive work and within the office location "City", it offers best conditions for good business. This puts it into good company in its neighborhood. In direct proximity, there are hotels of all categories for business visitors as well as a diverse range of restaurants for lunch or business dinners.
For a family friendly work environment, there are daycare facilities and schools at a convenient distance. Furthermore, the Grüngürtel also offer the biggest connected park scenery of the city center for relaxation and if desired, athletic time off during lunch.


Zeichen setzen.
Mit markantem Charakter.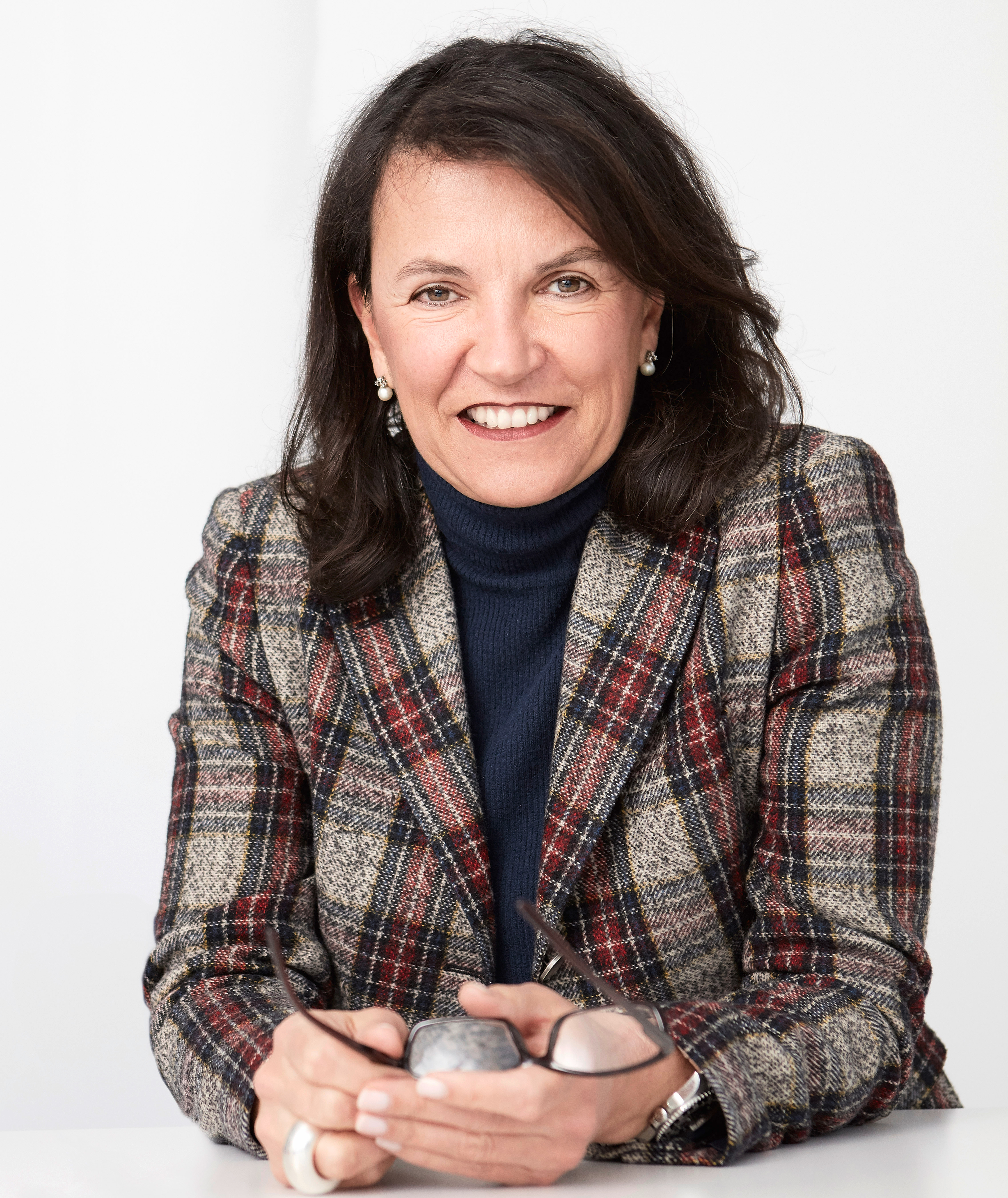 "Mit seiner modernen Fassade, den überhöhten Glasbändern und der starken Kontrastierung der Stirnseiten betonen wir die prägnante Gebäudestruktur. Das ohnehin schon schlank wirkende
ONE
COLOGNE ist eine weithin sichtbare Landmarke und wird ein echter Blickfang"
Claudia Roggenkämper, HPP Architekten
In die Zukunft geführt: Das ONE COLOGNE ist in seiner Grundform schon immer eine zeitlose Schönheit gewesen. Als schlankes Drei-Scheiben-Hochhaus zeigt es ein klares Profil. Seine FensterfIächen werden beim Refurbishment maximiert, die drei Meter hohen Innenräume sind dann lichtdurchfIutet. Diese horizontalen Glasbänder werden mit filigranen und leicht aus der Fassadenebene vorspringenden vertikalen Lisenen im Ausbauraster des Gebäudes durchzogen – ein feiner Nadelstreifen-Anzug für das Büroobjekt. Sehr gut vorstellbar ist, wie die hochglänzenden, anthrazitfarbenen Stirnseiten mit den seidenmatt-weiß beschichteten Aluminium-Paneelen auf den langen Seiten kontrastieren. Eine spannende Außenwirkung, die das Gebäude zu einem Leuchtturm an der weithin sichtbaren Ecke Innere Kanalstraße und Venloer Straße macht – ganz nach dem Motto "Sehen und gesehen werden".
Make a mark.
With striking character.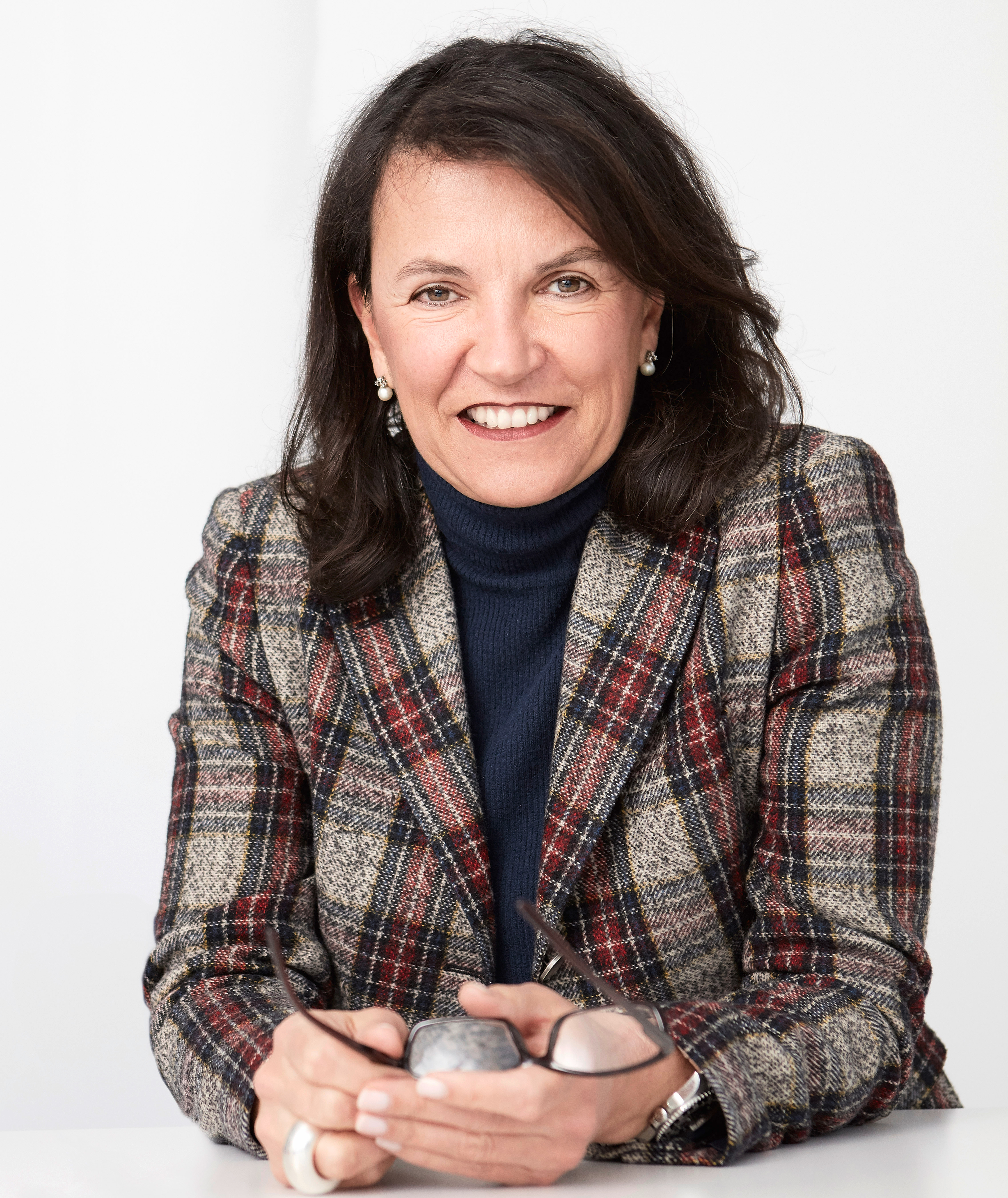 "With its modern facade, the high glass bands and the strong contrast of the front sides, we emphasize the strong building structure. The already lean looking
ONE
COLOGNE is visible at a long distance and will be a real eye-catcher"
Claudia Roggenkämper, HPP Architekten
Into the future: The ONE COLOGNE has always been a timeless beauty in its basic form. As a sleek three glass high-rise, it shows a clear profile. Its window surface will be maximized in the course of the refurbishment, the three-meter-high rooms will then be flooded with light. These horizontal glass bands will be infused with sophisticated vertical pilaster strips slightly stepping out of the facades in the extension grid - a smooth pin stripe suit for the office building. It can very well be imagined how the high-gloss anthracite colored fronts build a contrast with the semi-gloss white covered aluminum panels on the long sides. An exciting outside effect that turns the building into a lighthouse at the very visible corner of Innere Kanalstrasse and Venloer Strasse - according to the motto "see and be seen".
Mondäner Auftritt.
Weil der erste Eindruck zählt.
Der Vergleich mit einem Luxushotel ist erlaubt: Von der Venloer Straße aus erfolgt die exklusive Vorfahrt bis zum Haupteingang. Sie wird durch Fahnen und kunstvoll gestaltete Hochbeete gesäumt und durch Intarsien aus Edelstahl gegliedert.
Gegenüber der eleganten Freitreppe zum Foyer können Besucher-Stellplätze angeordnet werden, während die Mieter entweder Außenstellplätze oder die hauseigene Tiefgarage ansteuern.
Sophisticated presence.
Because first impressions count.
The comparison with a luxury hotel is justified: From Venloer Strasse, the main entrance has an exclusive access. It is decorated with artfully designed flower beds and stainless steel marquetry.

On the other side of the elegant free stairs to the foyer, visitor parking spots can be located, while the renters can either use outside parking or the inner underground parking.
Angenehmer Empfang.
Stilvoll, zeitgemäß und einladend.
Das Foyer erreicht man über eine breite und repräsentative Freitreppe und automatische Schiebetüren. Der Empfangsbereich wird von poliertem, dunklem Naturstein, indirektem Licht und den zentralen Aufzug-Gruppen mit digitaler Zielauswahl sowie effektvoll in Szene gesetzten "Leitwänden" geprägt. Vollständig durch das Gebäude hindurch blickt man nur hier bis zur Allee der Inneren Kanalstraße.
Im Hintergrund machen eine stilvolle Sitzgruppe und eine mögliche Barista-Bar das Warten oder eine kurze Pause angenehm.

In der Lobby wird ein zentraler Empfangstresen technisch vorgehalten.


Comfortable reception.
Classy, modern and inviting.
The foyer can be reached via wide and representative free stairs and automatic sliding doors. The reception area is impressive with polished, dark natural stone, indirect lighting and the central elevator groups with digital selection as well as stylish "lead walls". Only here, one can see entirely through the building to the boulevard of the Innere Kanalstrasse. In the background, a stylish seating area and a possible barista bar turn waiting or a short break into a breeze.

The lobby holds a central reception counter.


Moderne Arbeitswelten.
Kommunikation und Konzentration verbunden.
Ein Achsraster von ca. 1,40 m und die Gebäudetiefe von rd. 13,50 m ermöglichen alle modernen Büro-Layouts, von Shared-Desk-Modellen über Kombi-Büro-Flächen mit
intensiver Nutzung der Mittelzone bis hin zur effizienten und immer beliebteren Open- oder Team-Space-Nutzung oder auch klassischen Raum-Lösungen.
Modern working worlds.
Communication and concentration connected.
An axis of approximately 1.40 m and the building depth of approximately 13.50 m make all modern office layouts possible, from shared desk models, over combination office space with intensive use of the middle zone
over to the efficient and ever more popular open or team space usage or even classic room solutions.
Räume und Perspektiven.
Für Entscheidungen mit Weitblick.
Space and perspective.
For decisions with vision.
Intelligent gebaut.
Kurze Wege für Alle.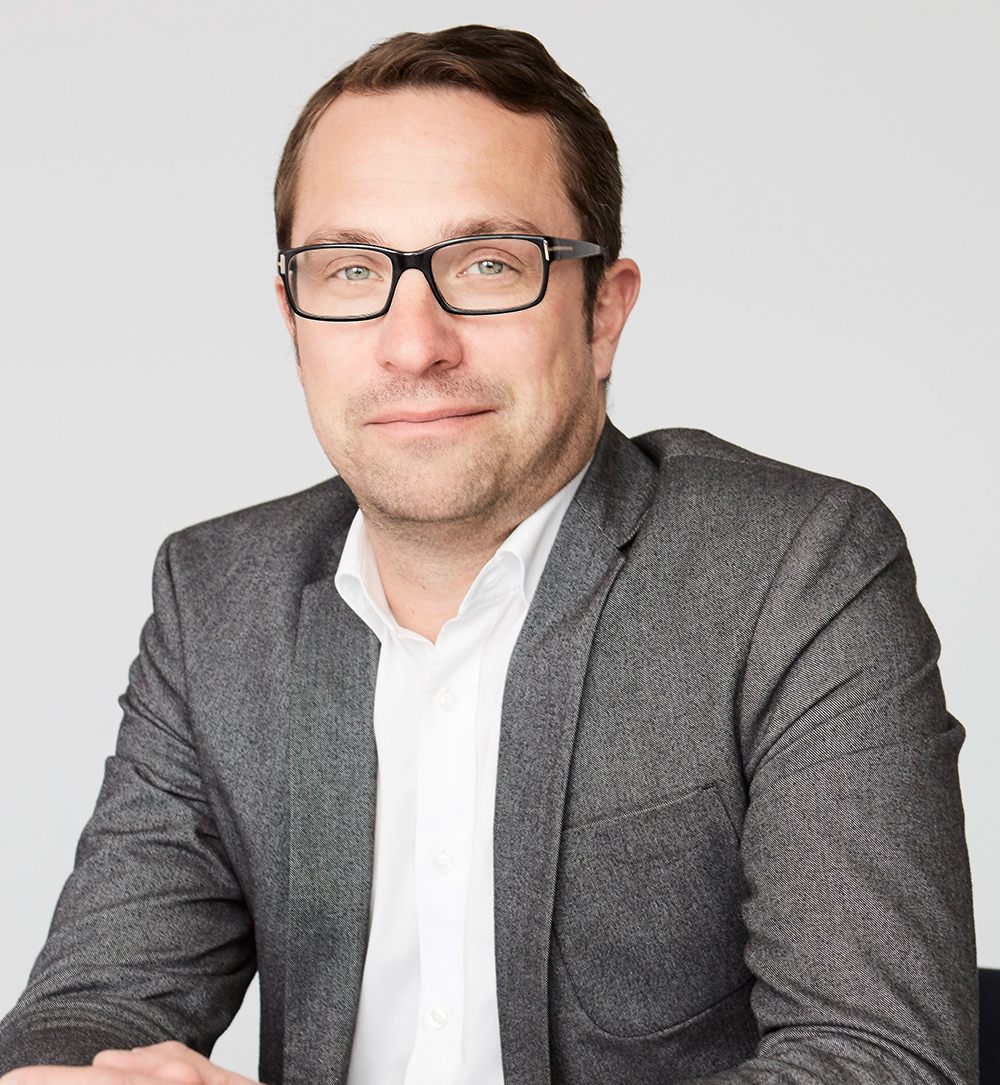 "Das
ONE
COLOGNE ist für uns wie ein Neubau und in allen Belangen zukunftsfit. Dafür sorgen die energieeffiziente Fassade, eine moderne Kühlung und eine unterstützende mechanische Lüftung – mit dem Ergebnis ganz erheblich reduzierter Nebenkosten. So erfüllen wir die neuesten Anforderungen der EnEV und streben eine ökologische Zertifizierung an."
Dr. Frank Holtmann, WITTE Projektmanagement GmbH
So schnell wie komfortabel: Die Struktur des ONE COLOGNE ermöglicht eine ideale Organisation. Im repräsentativen Foyer erreichen die Mitarbeiter und Besucher den Erschließungskern, der kompakt im Zentrum des Gebäudes liegt und so zu einer hohen Flächeneffizienz führt. Von hier aus bringen vier Hochgeschwindigkeitsaufzüge die Menschen schnell in die drei Meter hohen Büroetagen. Alle Büroflächen sind gekühlt und werden unterstützend mechanisch belüftet. Trotzdem lässt sich jedes zweite Fensterelement öffnen, um auch eine natürliche Belüftung zu ermöglichen. Die energieeffiziente Bauweise erfüllt alle Anforderungen der aktuellen Energieeinsparverordnung und ermöglicht künftig sehr weitgehend minimierte Nebenkosten.
Intelligently built.
Short ways for all.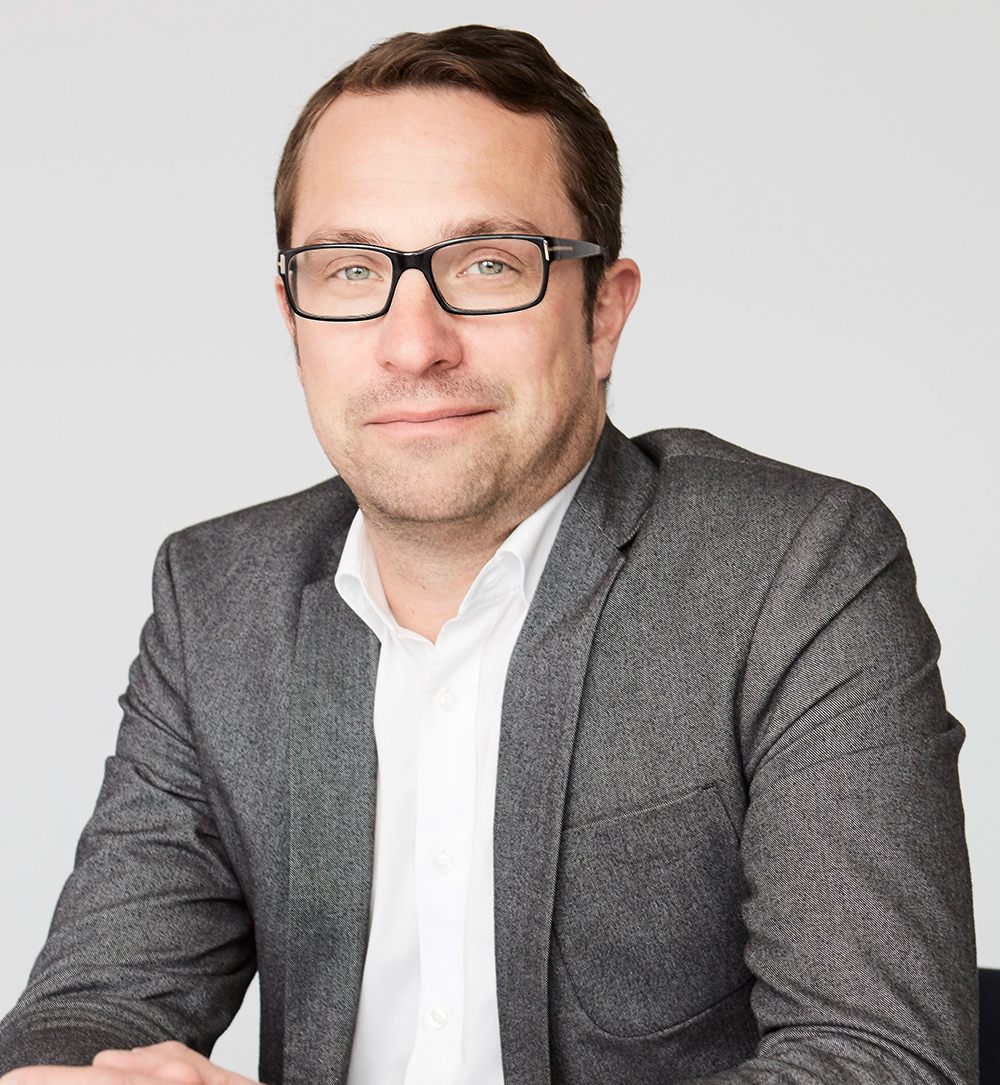 "To us, the
ONE
COLOGNE is like a new construction and fit for the future in every aspect. This is due to the energy efficient facade, the modern cooling and supporting mechanical ventilation - with the result of considerably reduced utility costs. This is how we fulfill the newest requirements of the Energy Savings Ordinance and strive to achieve ecological certification."
Dr. Frank Holtmann, WITTE Projektmanagement GmbH
As fast as it is comfortable: The structure of the ONE COLOGNE facilitates ideal organization. In the representative foyer, the employees and visitors can reach the development core, which is located in the center of the building and thus leads to high space efficiency. From here, four high-speed elevators take the people into the three-meter-high office levels fast. All office space is cooled and is also mechanically ventilated. Nevertheless, every other window element can be opened for natural ventilation. The energy efficient construction style fulfills all requirements of the current Energy Savings Ordinance and will make low utilities possible in the future.
Technische Daten
Gebäudekenndaten
Obergeschosse:

XIII

Untergeschosse:

III (split level)

Lichte Raumhöhe:

3,00 m

Gebäudetiefe Vorzugsmaß:

13,50 m

Ausbauraster:

MietfIäche:

15.000 m2

RegelgeschossfIäche:

1.250 m2

Parkplätze:

250 Stück (außen und Tiefgarage)
Alle Angaben sind ca.-Angaben
Technical data
Building facts
Upper floors:

XIII

Lower-level floors:

III (split level)

Ceiling clearance:

3,00 m

Building depth preferred measurement:

13,50 m

Extension grid:

Leased space:

15.000 m2

Regular floor space:

1.250 m2

Parking spots:

250 (outside and underground parking)
All information is approximate
Technische Daten

Maximal flexibel.
Auf jeden Platzwunsch eingestellt.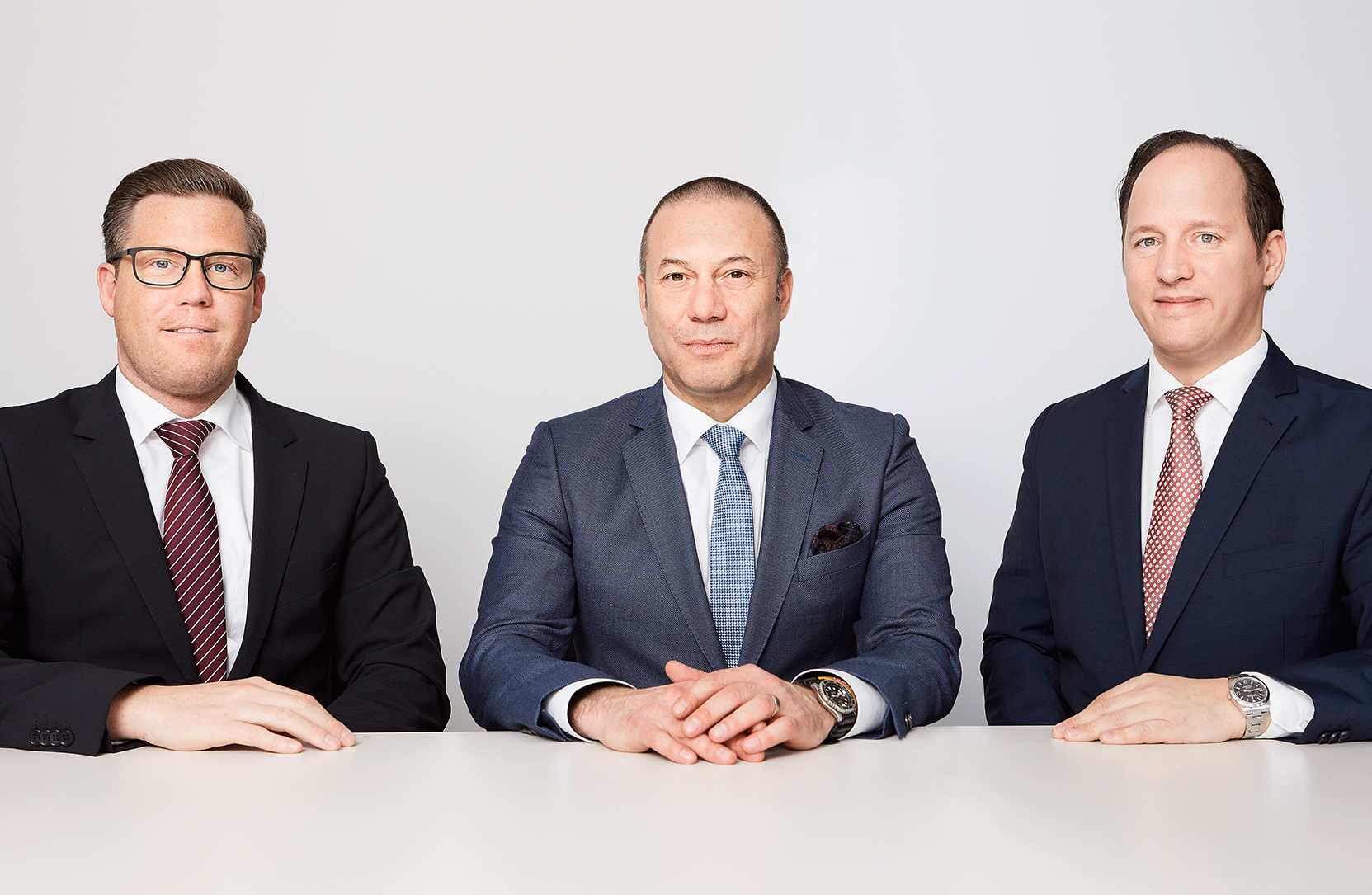 "Die überdurchschnittlich hohe Flächeneffizienz ist einer der größten Vorteile des
ONE
COLOGNE. Die Gebäudestruktur und das enge Ausbauraster ermöglichen alle heute bekannten Ausbautypologien, inklusive Shared-Desk und Team-Space. Und die Dachterrassen mit spektakulärem Ausblick im 11. sowie 13. Obergeschoss dürften wohl Köln-weit einmalig sein."
Lars Faßbender, Jens Hoppe und David Kreten, BNP Paribas Real Estate GmbH
Die einfache und symmetrische Grundform des Gebäudes macht variable und fIexible Grundrisse auf jeweils bis zu rd. 1.250 m2 pro Etage möglich. Eine maximale Belegung mit 110 Arbeitsplätzen ließe sich so realisieren. An den zentralen Erschließungskern mit vier schnellen Aufzügen und zwei autarken Rettungstreppenhäusern können pro Etage bis zu vier Mieteinheiten mit mindestens 300 m2 angebunden werden. Hieran lässt sich auch die sehr gute Flächeneffizienz des Objekts erkennen. Andererseits können auch komplette Etagen oder mehrere Einheiten vertikal verbunden werden.

Dank einer außergewöhnlichen und energie-effizienten Ausstattung bleibt das ONE COLOGNE noch lange Zeit "state of the art". Die Haustechnik umfasst die Kühlung und mechanisch unterstützte Lüftung sämtlicher Bürobereiche, einen außenliegenden Sonnenschutz sowie eine EDV-Verkabelung nach neuesten Standards. Hochwertige Sanitäranlagen mit wandbreiten Kristallspiegeln und zwei Dachterrassen mit Blick über die Stadt runden eine außergewöhnliche Ausstattung ab. Eine ökologisch nachhaltige Bauweise und die Zertifizierung nach Vorgaben der DGNB oder LEED führen übrigens auch zu einer Anordnung von Duschen für Zweiradfahrer im Untergeschoss.
Maximum flexibility.
Prepared for each spot request.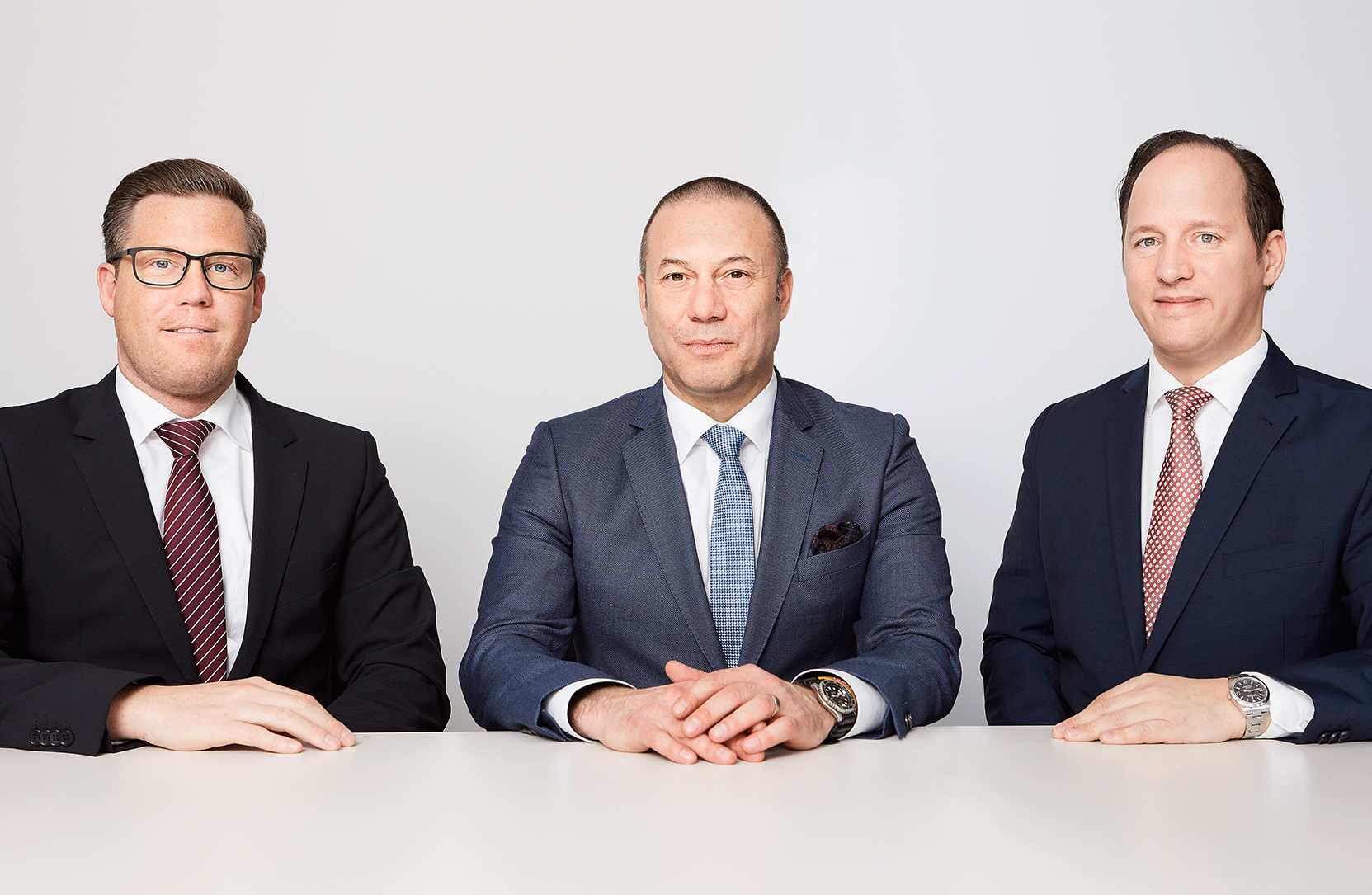 "The above average high space efficiency is one of the biggest advantages of the
ONE
COLOGNE. The building structure and the slim extension grid facilitate all currently known finishing types, including shared-desk and team-space. And the roof terraces with spectacular views on the 11th and the 13th floor are most likely unique in all of Cologne."
Lars Faßbender, Jens Hoppe and David Kreten, BNP Paribas Real Estate GmbH
The simple and symmetrical basic shape of the building makes variable and flexible layouts possible on up to 1.250 m2 per floor. A maximum occupancy with 110 positions could be realized. Per level, up to four lease units can be connected with at least 300 m2 to the central core with four fast elevator and two separate safety stairways. This also shows the very strong space efficiency of the object. On the other hand, complete floors or several units can be connected vertically.

Due to its exclusive and energy-efficient equipment, the ONE COLOGNE will remain "state of the art" for a long time. The building services comprise cooling and mechanically supported ventilation of all office space, an outside sun protection and Internet cable connections according to newest standards. High quality sanitary systems with wide crystal mirrors and two rooftop terraces with a view over the city complete the exceptional equipment. An ecologically sustainable construction method and the certification according to the provisions of the DGNB or LEED also lead to the installation of showers for bicycle riders on the underground level.
Gute Aussichten.
Für die Zukunft in Köln.
Eine exklusive Dachterrasse gibt es für den Mieter des 11. Geschosses, während eine weitere im 13. Stock für alle Mieter des Hauses zur Verfügung steht. Hier erleben Mitarbeiter und Besucher ein echtes Highlight des ONE COLOGNE: das 360°-Panorama über Your City.
Good prospects.
For the future in Cologne.
An exclusive rooftop terrace is built for the lessee of the 11th floor, while another terrace is available on the 13th floor for all lessees in the building. Here, employees and visitors get to see the real highlight of the ONE COLOGNE: the 360° panorama over Your City.
Vermietung

BNP Paribas Real Estate GmbH
Cäcilium / Cäcilienkloster 10
50676 Köln
www.realestate.bnpparibas.de

David Kreten
Telefon: +49-221 93 46 33 26
david.kreten@bnpparibas.com

Lars Faßbender
Telefon: +49-221 93 46 33 26
lars.fassbender@bnpparibas.com
Lease

BNP Paribas Real Estate GmbH
Cäcilium / Cäcilienkloster 10
50676 Köln
www.realestate.bnpparibas.de

David Kreten
Phone: +49-221 93 46 33 26
david.kreten@bnpparibas.com

Lars Faßbender
Phone: +49-221 93 46 33 26
lars.fassbender@bnpparibas.com
Projektgesellschaft
Projektentwicklung
Venloer Straße in Köln S.à r.l
6, avenue Pasteur
2310 Luxembourg
Luxemburg

Ein Projekt der

DEVELOPMENT PARTNER AG
Kaistraße 2
40221 Düsseldorf
www.developmentpartner.de

Henning Dumrese
Telefon: +49-211 9123 370
h.dumrese@developmentpartner.de

Eigenkapitalpartner und
Gesellschafter

Patron Morgan S.à r.l.
6, avenue Pasteur
2310 Luxembourg
Luxemburg
Project company
Projektentwicklung
Venloer Straße in Köln S.à r.l
6, avenue Pasteur
2310 Luxembourg
Luxemburg

A project of

DEVELOPMENT PARTNER AG
Kaistraße 2
40221 Düsseldorf
www.developmentpartner.de

Henning Dumrese
Phone: +49-211 9123 370
h.dumrese@developmentpartner.de

Equity partner and
shareholder

Patron Morgan S.à r.l.
6, avenue Pasteur
2310 Luxembourg
Luxemburg
Architektur

HPP Hentrich–Petschnigg
& Partner GmbH + Co. KG
Kaistraße 5
40221 Düsseldorf
www.hpp.com

Innenarchitektur

JOI-Design Interior Architects
Barmbeker Straße 6a
22303 Hamburg
www.JOI-Design.com
Architecture

HPP Hentrich–Petschnigg
& Partner GmbH + Co. KG
Kaistraße 5
40221 Düsseldorf
www.hpp.com

Interior design

JOI-Design Interior Architects
Barmbeker Straße 6a
22303 Hamburg
www.JOI-Design.com
Haftungsausschluss
Diese Informationsschrift bemüht sich, zum Zeitpunkt ihres Erscheinens und im Rahmen des Zumutbaren richtige und vollständige Informationen zur Verfügung zu stellen. Wir übernehmen damit jedoch keine Haftung, Zusicherung und/oder Garantie für die Aktualität, Richtigkeit und Vollständigkeit der in dieser Informationsschrift bereitgestellten Informationen. Insbesondere sind alle gemachten Angaben, Bilder, Ausführungen usw. lediglich als Anregung für vielfältige Möglichkeiten zu verstehen.

Eine Zusicherung von Ausstattungen, Mengen, Qualitäten, Marken und Details ist damit ausdrücklich nicht verbunden. Auch können die Informationen Wunschausstattungen zeigen, die nur aufgrund gesonderter Absprache und nur gegen Aufpreis ausgeführt werden. Unser Haus behält sich das Recht vor, jederzeit und in jeder Hinsicht frei über den Inhalt der in dieser Informationsschrift gemachten Angaben zu entscheiden, insbesondere jederzeit ohne Angabe von Gründen und ohne Information der Leser das Beschriebene zu ändern, zu ergänzen oder gänzlich zu entfernen und ggf. durch Neues zu ersetzen.

Grundlage für eine Kauf- oder Anmietentscheidung kann diese Informationsschrift daher nicht sein. Allein der Inhalt eines Mietvertrages oder notariellen Kaufvertrages ist maßgeblich.

Bildnachweis
AccorHotels, Werner Brodeßer, Troisdorf: bunte bilder, Düsseldorf, Guido Erbring, Köln: Michael Godehardt, Bochum, Andreas Greß, Köln, HH-Vision, Köln, Raimond Spekking / CC-BY-SA-4.0 (via Wikimedia Commons): ZH2010 / CC-BY-SA-3.0 (Creative Commons)
Exclusion of liability
This informational pamphlet strives to provide correct and complete information at the time of its publication within reasonable conditions. However, we do not assume any liability, make assurances and/or guarantees for the timeliness, correctness and completeness of the information provided herein. In particular, all information, pictures etc. are only meant to be understood as a suggestion for diverse options.

An assurance of equipment, quantities, qualities, brands and details are expressly not connected therewith. The information can also show desired equipment that would only be carried out based on special arrangements and for additional cost. Our company reserves the right to make decisions about the contents published in this pamphlet, in particular, to change, amend or entirely remove the described information and replace it at any time without any indication of reasons and without the information of the readers.

For this reason, this pamphlet cannot be used as the basis for a purchase or lease decision. The content alone of a lease agreement shall apply.

Picture credits
AccorHotels, Werner Brodeßer, Troisdorf: bunte bilder, Düsseldorf, Guido Erbring, Köln: Michael Godehardt, Bochum, Andreas Greß, Köln, HH-Vision, Köln, Raimond Spekking / CC-BY-SA-4.0 (via Wikimedia Commons): ZH2010 / CC-BY-SA-3.0 (Creative Commons)